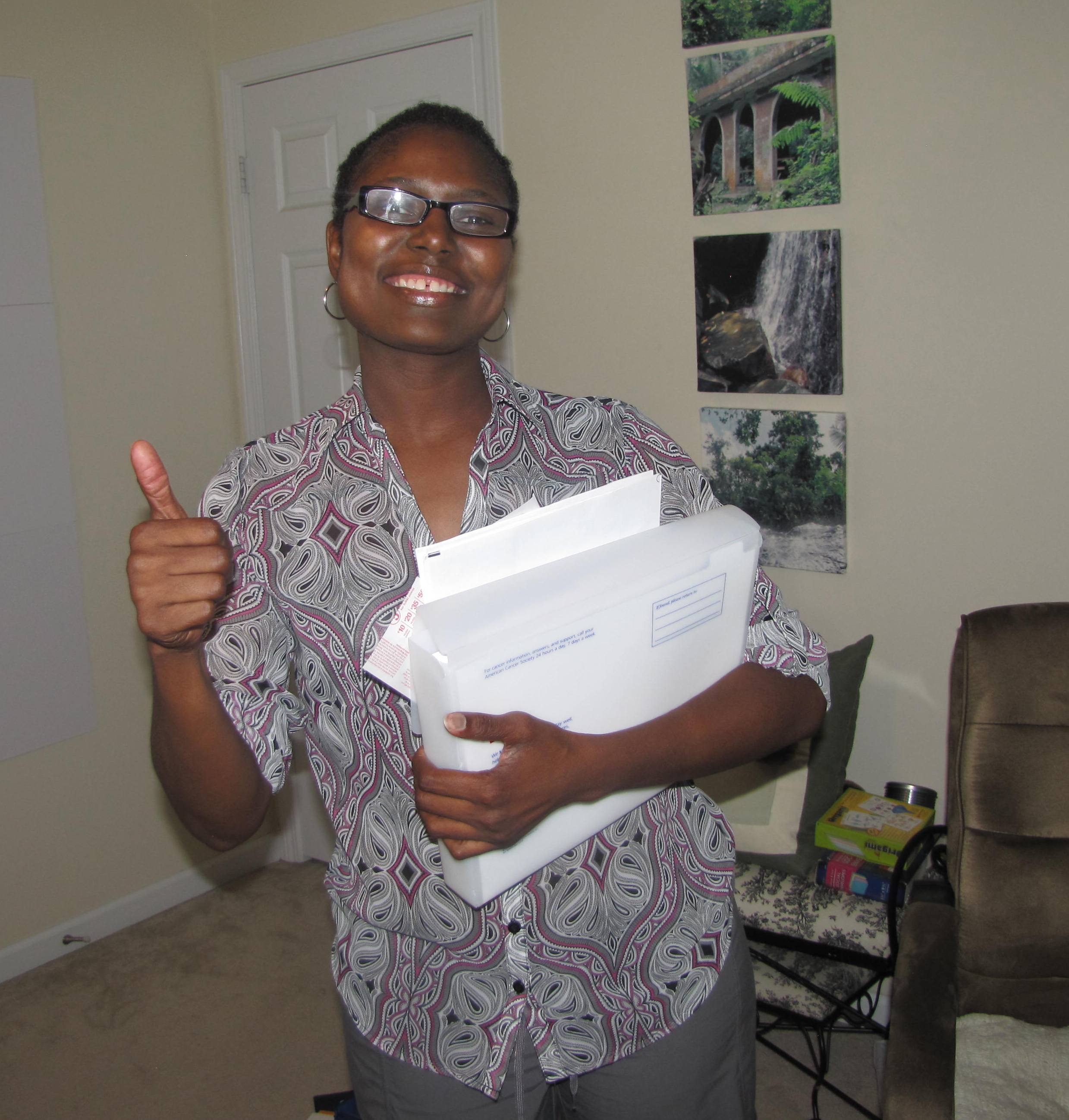 I would never have imagined that at the age of 29, I would be lying in intensive care fighting for my life with stage IV anaplastic large cell lymphoma (ALCL). What a wake-up call, literally!
Nicknamed "Sleeping Beauty," I woke up after three weeks to learn my true diagnosis following months of illness. By the time I opened my eyes, I had already undergone my first five-day round of chemotherapy…with five more sessions to go. It was going to be a long summer.
But as it turns out, the treatments, emotional struggles, and spiritual awakenings were only part of the battle. Soon enough, the bills began rolling in.
I tend to be a Type A planner. The better insurance policies, retirement plans, a couple of savings accounts for a rainy day, and frugal spending were all my style. Lymphoma was not part of the plan.
Where to start?
So what did I do? At first I skated by paying the smaller bills with my income and savings. I made my way through the wealth of sick days I had accrued and spent a great deal of time at Atlanta Cancer Care of Northside Hospital and the Bone Marrow Transplant Group in Atlanta, Georgia. When I was coherent enough to begin my research, I didn't focus on only lymphoma and care and nutrition, I also researched options for financing such a journey. I began with the office social worker -- and what an impact this had on me.
Medical social workers have extensive knowledge of a variety of resources. They are familiar with both national organizations and local businesses willing to support cancer survivors. I immediately had a starting line and a point person to lead the charge in my efforts to finance my increasingly expensive care.
My next stop? The Leukemia & Lymphoma Society's (LLS) Co-Pay Assistance Program, which provides funding to eligible patients for particular treatment and health expenses. This financial support paid larger fees and freed smaller monies for other expenses I incurred.
Next? Parking options. Park and pay for five bucks a day or combine appointments with offices that validate for free parking. A no brainer!
The social worker opened my eyes to opportunities, yes second chances if you will, to pay the bills. The medical institution has a financial aid program. Sign me up! The insurance company will cover a cranial prosthesis. A what? Oh -- a wig?! Yes, my hairless scalp is quite cold these days; I'll take it. I was encouraged to seek help from family, the community and church. Ok…now that one was tough because I'm an independent woman, but believe me, eight years later, I'm more of a yes-girl!
Finding resources
I became inspired and somewhat obsessed. I had to learn about all of the resources that I could just to could stay afloat. There was an educational fund -- Cancer for College, for which I was not selected, but I felt encouraged by their mission. There was the Lymphoma Research Foundation. Thank you! And we can't forget CancerCare. Later I learned about the critical illness insurance, which I've since purchased and filed successful claims to subsidize my care. This is all legitimate; help is out there for us survivors.
So how about a complimentary scarf or hat -- readily available in the clinic from volunteers and through major organizations such as the American Cancer Society? Some of the best resources can be found right in the cancer support center within your own hospital or clinic. They often have free exercise/art/nutrition/well-being classes, and sometimes individual and group therapy too. Health coaches and nurses via phone may also be part of your benefits. Call and ask.
The goal is to seek out any resource that will help you survive and thrive. The financial part of your care can cause a tremendous amount of stress, and that will only make things seem worse. Don't feed the negative energy. Nurture your health, instead.
You will definitely need an advocate. If you cannot advocate for yourself, then please find a relative or a friend who can advocate intelligently on your behalf. Review the items that are billed to you and don't be afraid to ask about your benefits, options for payment and reduced payment, especially with prescriptions. Ask the simple question, "How can we make this more affordable for me without sacrificing the quality of my care?"
Get creative
Some debt can be negotiated. Also, application processes at various medical centers are available to limit or eliminate medical bills. Request financial assistance and complete the appropriate documentation to see if you qualify. Other services can save you money, such as volunteer transportation services, plane tickets, copay programs, grants (one time or continuous), and so much more.
On one occasion, I called the insurance company regarding a bill from an ICU visit and began to ask questions. I discovered multiple counts of identical treatments and the bill was reduced to $800 from $8,000. That says to me that health care professionals make errors, too. We have to monitor our care and expenses.
On average, I spend about $5,000 annually on my medical care and this does not include my monthly health insurance premiums (general, dental, vision, etc.). I survive because I'm thrifty. I find resources. I accept help, and I have elected not to purchase that car of my dreams until I can afford it (an Audi A5, by the way).
Short-term and long-term disability, following a wealth of sick days and family medical leave, turned out to be my best friends. At my job, I stayed in communication with the human resources and insurance services department. I have not yet lost employment, but planning ahead for that possibility is part of what cancer survivors have to do, too. I keep all of my receipts and good records, because at tax time, we have to show evidence of our spending to legitimately claim each of your medical expenses.
I consider myself lucky to be an advocate for myself with a very supportive family.
I understand that many out there don't have the resources to research or the energy to ask. That is what our health care professionals and support personnel are there for. It is what our family and trusted friends are there for. Let's recruit them so that we can focus on the task at hand….Beating cancer at its own game.
The Leukemia & Lymphoma Society has many helpful resources. Contact an information specialist by phone, chat or email. Learn about available financial support and other helpful organizations. Grow your network and you may find that it makes a huge difference during this journey. Good luck!
A few additional resources are below:
American Cancer Society
Association of Oncology Social Work
The Bone Marrow Foundation
Cancer Care
Cancer Financial Assistance Coalition
Cancer for College
Ebeauty Community
Good Wishes
Lymphoma Research Foundation
Needymeds
Partnership for Prescription Assistance
Patient Access Network
Patient Advocate Foundation
Social Security Disability
Stupid Cancer
Jacquelyn Pryor has relapsed three times since being diagnosed with lymphoma in 2008. Recently she again heard the two magic words cancer patients love to hear: complete remission. She has spent an average of $5,000 annually on medical care and, like many patients, found the financial management of her health care to be very stressful. With the help of health insurance, employment, careful financial planning and a diligent use of resources, she feels she is successfully navigating the trials of the money side of her cancer experience.