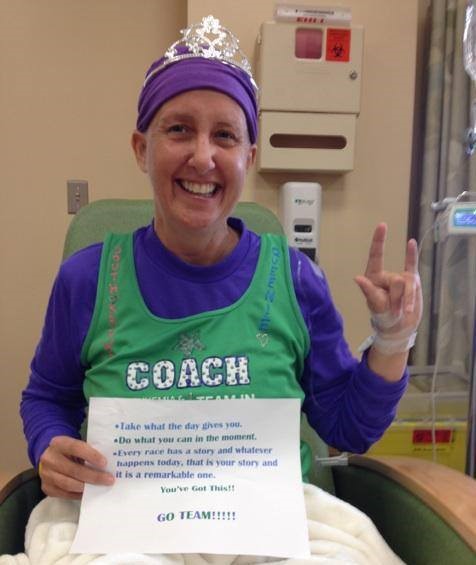 Thousands of runners will hit the streets of Chicago this weekend for the 2016 Chicago Marathon. Before they cross the start and finish lines, they will go through an intense training program to meet one of their most challenging goals: 26.2 miles.
As a coach for The Leukemia & Lymphoma Society's Team In Training (TNT), Marie Jarrell of Chicago is the inspiring drumbeat for hundreds of Chicago marathon trainees every year, leading them down the path to fitness and providing them with inspiration along the way.
Over the past 14 years, Marie has been running and coaching on the south side of Chicago. In 2002, she joined TNT as a runner. The night before her first race, as the runners loaded up on pasta as carbo-fuel for the race, a newly-famous cancer researcher spoke to them about their contribution to his work in the lab.
Dr. Brian Druker had just discovered the most significant treatment for leukemia in a generation, one that would soon be used to treat other cancers as well. His new drug, Gleevec, has dramatically increased the survival rate for chronic myelogenous leukemia patients, up to 90% in clinical trials.
"You are my heroes," he said to the runners who had raised millions that funded his early work on this drug. That year, the TNT Chicago Marathoners had raised $7.1 million. "That really hit me," Marie said.
Over the years, Marie raised another $100,000 herself, and trained hundreds of new marathoners for each season of races. TNT had become a big part of her life, and it was where she made most of her closest friends. In 2014, her own breast cancer diagnosis threatened to stop her in her tracks.
"When you are diagnosed with cancer, you want to go into the doctor's office and hear the words 'we have a plan' and 'cure,'" Marie said. "Because of the work of LLS, and funding through campaigns such as Team In Training, many people do hear those words today. My breast cancer diagnosis gave me a very personal understanding of the critical work LLS is doing for blood cancer patients," she said. "LLS also helped in my treatment as my teammates, my best friends, became my family when I got sick."
"I didn't miss a day of coaching due to my illness, and was back on the track with my teammates one week after my mastectomy. I coached the Chicago Marathon after my third round of chemotherapy. Getting back to coaching was my way of putting cancer in its place, and not letting it take away from me the things that I loved."
From her coaching position toward the end of the Chicago Marathon that year, Marie recalls watching her team's reaction to her presence. "When they saw me with my bald head at mile 24, just when they thought they couldn't run any further, I remember the high fives and the tears," she said. "And then they just sailed on by, with renewed energy for our cause."
This year, Marie is TNT's head coach at the Bank of America Chicago Marathon on October 9. TNT brings 110 marathoners from Chicago this year, and another 250 from around the country who together have raised $465,000 to fund lifesaving treatments and provide education and support to patients and families.