We close Blood Cancer Awareness Month with our weekly Celebrating Survivorship series highlight of LLS Community member, Joe.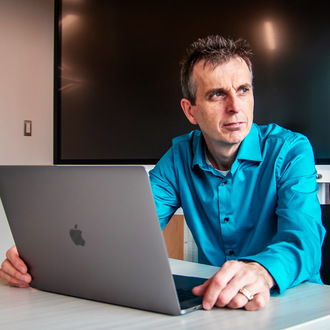 I went to my family doctor for a routine checkup back in November of 2019 and during the exam he found a large mass on my abdomen.
It was 3 weeks later (2 days before Christmas) when I was officially diagnosed with Follicular non Hodgkin lymphoma. At first I struggled with the 'WHY' it happened, but as time went on, I came to realize the most important thing was the 'HOW'. How am I going to live with this? How am I going to remain positive? How am I going to heal my body?
The answer to all these questions came down to belief and creativity. Belief in overcoming the challenges so I could regain my health... and creativity... in developing my natural talents so I can live up to my potential and help others. Over the past six months I've known friends who died of cancer, but for some reason the universe spared me and I am forever grateful.
My ability to choose inspiration over despair, happiness over sadness and peace over anger empowers my soul. I'm convinced the decisions we make in time of crisis are vital to our survival... I tried to capture this idea in a song.