I was 19-years-old and had just entered my first year of college when I began noticing symptoms. I'm not a morning person; however, I was finding it unusually difficult to make my 8 a.m. class. I also started getting unexplained bruises all over my legs and arms, and I had a nagging cold for months. One morning, I noticed tiny purple dots on my face so I finally made an appointment to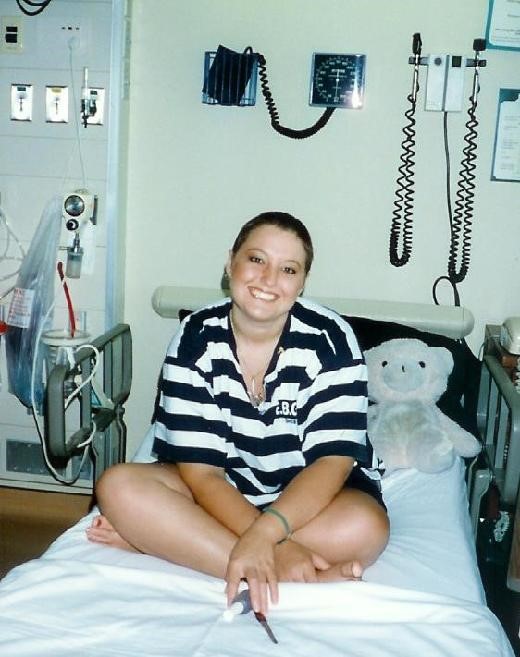 see my GP. A blood count showed that my platelets were only 7,000. A normal platelet count is between 140,000 and 400,000. I was told to go to the ER immediately. I was admitted that night and the next morning, a bone marrow biopsy confirmed I had Acute Myeloid Leukemia (AML). My doctor told me, I would not have made it one more day. I was given a 40 percent chance of survival.
So began my journey battling AML at age 19. I had an autologous bone marrow transplant where they take my own bone marrow and freeze it to kill the cancer cells. While that's happening, I underwent chemo and full-body radiation. Then, my bone marrow is transfused. My treatment lasted only two months but my recovery will take a lifetime. The side effects from chemo and full-body radiation are brutal. I lost my hair three times. I became sterile and have been pre-menopausal since I was 19. I got cataracts in both eyes in my early 20's that resulted in lens transplants. I continuously worry about relapsing and what side effects are yet to come.
With that said, I would not take it away if I could. Getting diagnosed with cancer made me realize how fragile life is, how incredibly important true friends and family are, and how meaningful our lives can be. It brought me closer to God, closer to my family and it gave me a purpose. I am so grateful for the simple things in life - to be able to watch a sunset with my husband, to walk barefoot through wet grass, to travel and witness the magnificent beauty that surrounds me. I'm also grateful to be able to share my story with others diagnosed with AML. I hope that my outcome gives them hope and strength to fight and survive.