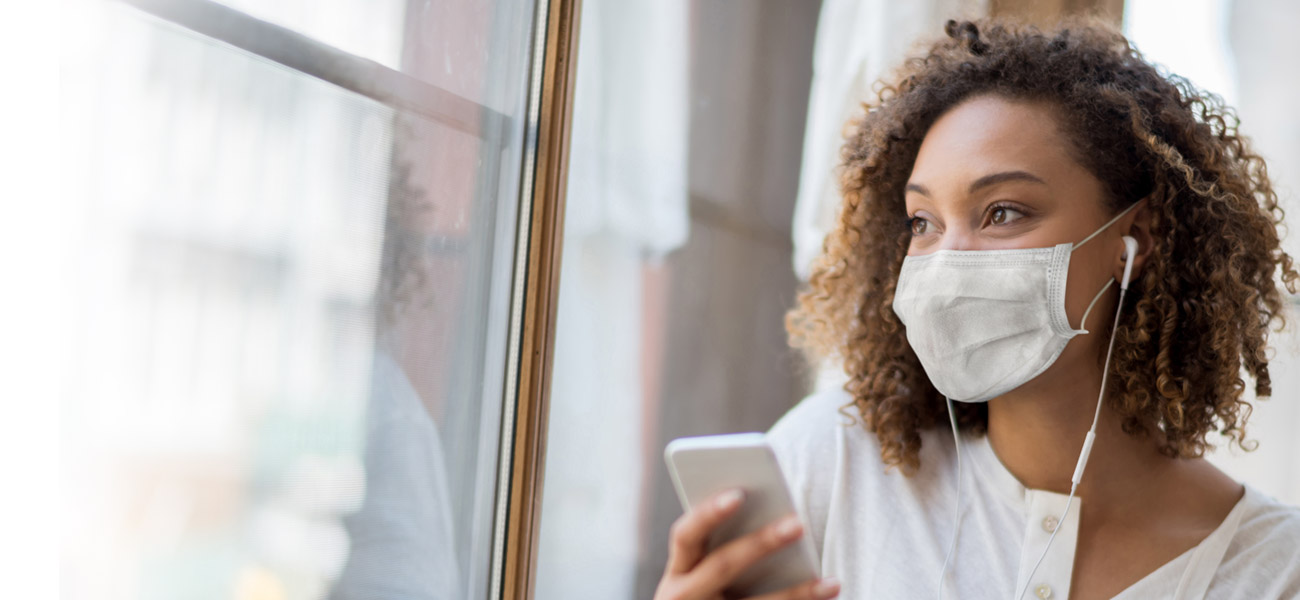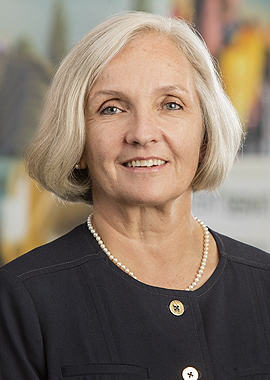 The Leukemia & Lymphoma Society (LLS) hears from blood cancer patients and caregivers each day about the profound effects of the pandemic on their cancer care and daily lives. While it's been an incredibly trying time, there are bright spots ahead as we all celebrate FDA authorization of two COVID-19 vaccines and look toward more safe, effective vaccines on the horizon. While we may not have all the answers at this time, LLS Chief Medical Officer, Gwen Nichols, MD, is addressing a few FAQs from blood cancer patients and caregivers based on what we know right now. We encourage you to discuss COVID-19 vaccines with your oncologist and healthcare team.
It's also critical for blood cancer patients and their caregivers to continue taking precautions such as wearing a mask, maintaining social distancing, and washing your hands frequently. Data continues to show that blood cancer patients are at higher risk of developing more severe illness from COVID-19.
As you continue to navigate your care during these challenging times. LLS offers a wide array of free education and support that can help. LLS Information Specialists – highly trained oncology professionals – are here to provide one-on-one support at (800) 955-4572 or by live chat/email here.
Last updated 1/8/2021
What COVID-19 vaccines have been authorized or approved?
On Dec. 11, 2020, the FDA granted emergency use authorization (EUA) to a vaccine from Pfizer-BioNTech – the first COVID-19 vaccine authorized in the U.S. One week later, on Dec. 18, 2020 the FDA granted EUA to a vaccine from Moderna. Both vaccines were more than 90% effective in preventing illness from COVID-19 among clinical trial participants. Both are given in two doses 3- to 4-weeks apart.
Availability of these vaccines marks an important step forward in the fight against COVID-19. Blood cancer patients are among those who are at increased risk of developing more severe illness from the virus that causes COVID-19. We encourage blood cancer patients and caregivers to discuss COVID-19 vaccination with their oncologist and healthcare team as early as possible so they can make an informed plan of action when a vaccine becomes available to them.
Who is eligible to get vaccinated?
The Pfizer-BioNTech vaccine is authorized for use in anyone 16 and older, while the Moderna vaccine is authorized for people 18 and older. Since there are limited quantities of the vaccines currently available, the U.S. Centers for Disease Control and Prevention (CDC) is providing recommendations to federal, state, and local governments about who should get vaccinated first. The first group included healthcare personnel and residents of long-term care facilities. On Dec. 22, the CDC added frontline essential workers and people 75 years of age and older. The CDC will provide additional direction on priority groups for vaccination as more vaccines become available. Check here for the latest information.
Will COVID-19 vaccines be safe for blood cancer patients? Should I get one right away?
Both vaccines were shown to be safe in clinical trials and more than 4.5 million Americans (and counting) have received at least one vaccine dose so far. At this time, patients undergoing cancer treatment may be offered vaccination against COVID-19 if they have no other contraindications to these vaccines.
Even after vaccination, cancer patients should continue to follow current guidance including wearing masks, social distancing and frequent hand washing to protect themselves from exposure to COVID-19.
Data keeps coming in about how dangerous the virus is for cancer patients—particularly those with blood cancer, so vaccination will be very important. However, most COVID-19 vaccine clinical trials have not yet included cancer patients. Cancer treatment can affect how well a patient's immune system responds to vaccines. While some immunocompromised patients may experience decreased immune response to the vaccine, it may still confer some benefit and is important for reducing the risk or severity of COVID-19 to cancer patients.
LLS is advocating for expanded clinical trials that include patients with immunosuppression, such as blood cancer patients undergoing treatment, and pediatric patients. Data from clinical trials is essential to help us understand if these patients get adequate immunity and the best timing of vaccination in relation to where patients are in their treatment plan.
Have blood cancer patients been included in clinical trials studying the safety and effectiveness of COVID-19 vaccines?
Cancer patients were not included in many of the COVID-19 vaccine clinical trials. While there is no reason to believe vaccine safety will be different in cancer patients, important questions remain about how well these vaccines induce immunity in patients with cancer, particularly those undergoing treatment. Specifically, some cancer patients may not be able to develop a full immune response due to their cancer or cancer treatment so they may still contract the virus and spread it to others. That's why it's important for cancer patients to continue to take other preventative measures like hand washing, wearing masks and social distancing.
Over the coming months, it will be critical to expand clinical trials and to collect data which includes patients with immunosuppression, including blood cancer patients undergoing treatment as well as pediatric patients to better understand the efficacy of COVID-19 vaccines for cancer patients. Read our full statement here.
What does "emergency use authorization" mean?
A vaccine can be distributed in the U.S. only after an approval or an emergency use authorization (EUA) from the FDA. During a public health emergency, the FDA can issue an EUA to make certain medical products available more quickly based on the best available evidence and overwhelming public need. Since the start of the pandemic, the FDA has authorized hundreds of coronavirus tests, several treatments, and most recently, the first COVID-19 vaccines in the U.S. Treatments and vaccines that have been given an EUA continue to be studied in clinical trials to generate the data needed for a full FDA approval.
How will COVID-19 vaccines be distributed, and how do I get one once available?
Vaccine distribution is following a phased approach, where the first people to receive them will be healthcare workers and residents of long-term care facilities. The CDC has put forth COVID-19 vaccination recommendations outlining these groups as priority. Ultimately, states have the final say over who is first in line for any COVID-19 vaccine, but they are generally expected to follow guidance from the CDC. Likely, the initial supplies will be directed to hospitals and long-care facilities. It's anticipated that vaccines will become more widely available to the general public in late spring or early summer 2021. Be sure to speak with your oncologist about whether a COVID-19 vaccine might be safe for you.
When will a vaccine be available for children? What about children with cancer?
Because children's immune systems are different from those of adults, pediatric clinical trials are essential to establish safety and efficacy of COVID-19 vaccines among children. As some pediatric trials are just getting started, it will be some time before we see a vaccine available for kids – likely later into 2021. While we don't know when trials will begin that include children with cancer, it's a good idea to begin discussing vaccination plans with your child's oncologist. LLS continues to monitor for developments closely. We are keeping abreast of the ongoing studies, and advocating for the inclusion of cancer patients and survivors in clinical trials when it is safe to do so.
Should my caregiver or loved ones get a COVID-19 vaccine? If so, how soon and will it be safe?
We encourage caregivers and other family members to start a conversation about COVID-19 vaccination with their healthcare providers as early as possible. Data so far suggest the vaccines are safe, with side effects similar to other vaccines that trigger an immune response, including injection site pain, fatigue, headache, muscle pain, chills, joint pain, and fever. Side effects, including fever, appear to be more common after the second vaccine dose. Caregivers should be certain to tell their healthcare provider that they care for a blood cancer patient.
I'm a blood cancer survivor. Should I consider getting a COVID-19 vaccine right away?
We encourage blood cancer survivors to talk to their oncologists about COVID-19 vaccines. Data from clinical trials suggest these vaccines are safe and effective among older adults, who usually do not make as many protective antibodies from vaccination as younger people. This is promising news. While we have every reason to believe these vaccines will be safe for individuals who have completed cancer treatment, more research is needed. LLS will be closely monitoring for developments over the coming months. In the meantime, we encourage you to discuss a vaccination plan with your care team. You can find general information about immunizations for survivors here.
I have experienced severe allergic reactions to prior vaccines or injectable drugs. Can I still get the COVID-19 vaccine?
Currently, CDC considers a history of severe allergic reaction, such as anaphylaxis, to any vaccine or to any injectable therapy (e.g., intramuscular, intravenous, or subcutaneous) as a precaution, but not contraindication, to vaccination. However, severe allergic to any specific component of the Pfizer-BioNTech or Moderna COVID-19 vaccines is a contraindication to vaccination.
LLS strongly encourages you to discuss any questions or concerns about the potential risks of vaccination with your healthcare provider. Tell your vaccination provider about all of your medical conditions, including your history with allergies.
How do these new vaccines work?
All vaccines have the same goal: to get the body to develop protective antibodies against a disease without us having to get sick. The Pfizer and Moderna vaccines both use a technology called messenger RNA (mRNA). mRNA vaccines use a snippet of the virus's genetic code to instruct cells in the body to build viral proteins. In this case, the cells learn how to make the so-called "spike protein" found on the surface of the COVID-19 virus. As a result, an immune response gets triggered, which produces antibodies, helping the body recognize and fight infection if exposed to the actual virus. This is the first time this technology has been used for a vaccine. And the lightning speed at which the science is progressing is truly remarkable.
I'm seeing several studies about how COVID-19 affects blood cancer patients. What are some of the key updates and takeaways?
Every day, the medical and scientific communities are learning more about how COVID-19 impacts blood cancer patients. In fact, the 62nd American Society of Hematology Annual Meeting in December dedicated a number of sessions to this topic.
Some of the key takeaways include:
It's essential for blood cancer patients and caregivers to continue following appropriate precautions to minimize exposure risk. More studies confirm that blood cancer patients, particularly those in active treatment, are at an increased risk of severe disease and death from COVID-19. What's more, a patient's ability to make protective antibodies to COVID-19 may be impacted by active treatment with lymphodepleting chemotherapy (including therapies that are not traditional chemotherapies).
Guidelines for COVID-19 isolation precautions may need to be revisited for immunocompromised patients. The length of viral shedding (how long you may remain infectious to others) in some cancer patients may be longer than other COVID-19 patients and this may require longer quarantine measures.
Stay in touch with your healthcare provider about COVID-19 symptoms. One study showed there may be a higher level of false negative COVID-19 testing by nasal swab among blood cancer patients, particularly those who are in active treatment. A false negative means that the test says the patient doesn't have the virus when in fact they do. Because this study involved a small number of patients, more research is needed. The best advice at present is to talk with your healthcare provider if you have any symptoms that suggest COVID-19 infection, even if you have tested negative. Your provider can advise whether repeat testing or more sensitive testing should be considered.
Can you explain herd immunity?
Herd immunity is a concept used for vaccination, in which an entire population can be protected from a virus if a certain proportion of the population is immune to it. With herd immunity, if a vast majority of people are vaccinated, it reduces how much a virus can spread throughout the whole population, helping to protect vulnerable groups who cannot get vaccinated. While vaccines mark a promising step forward, it will be a while before herd immunity is achieved given the large numbers of people who would need to be vaccinated and how quickly the virus spreads through asymptomatic carriers. And, more data will be needed to evaluate how well the vaccines prevent infection and induce immunity over time. For example, researchers are still studying whether people who are vaccinated and never experience symptoms can still spread the disease to others. It's important to remember that herd immunity refers to community protection – as opposed to individual protection – so it's not a substitute for appropriate vaccination and protective measures.
How do I cope with pandemic fatigue while I wait for a vaccine?
If you're experiencing feelings of anxiety, stress, fear, sadness, and grief, know that you are not alone. Months of isolation and uncertainty can take a toll on anyone, and LLS is hearing from many patients and caregivers who are going through it right now. Taking care of yourself is one of the most important things you can do, and support is available to you. LLS has so many free resources to help you find the support that is right for you, including online chats, our social network LLS Community, a peer-to-peer support program, and so much more. LLS Information Specialists are here to help you and any blood cancer patients, survivors, caregivers, family members, and healthcare professionals at (800) 955-4572 or by live chat/email here.
Find more free blood cancer information, education, and support from LLS here.