Your Profile provides important information that allows us to send you disease-specific updates, treatment information, and information about how to access financial assistance programs specific to your diagnosis of interest.
Complete or update your profile by clicking Finish it Now: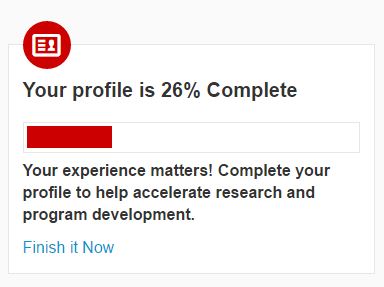 Then, click through each of the tabs labeled About Me, My Diagnosis & Treatment, and My Healthcare Team:

Your data is private and stored in a secure location. It is never shared with outside organizations. The more information you provide, the more we can help.
There's Much More for LLS to Learn
We have also launched new questions in your Profile area, in the My Diagnosis & Treatment tab. Here's what you will find:
How can we contact you?
Let us know if it is okay to contact you outside the platform by phone, email, text message, or voicemail, especially with helpful information to answer your questions. We can contact you with important disease and treatment information and services related to blood cancer.
Information about other existing health conditions that you may have.
Why? There may be unmet needs or gaps in care that potentially relate to your other health conditions. LLS Community wants to uncover potential issues and help design solutions.
Thank you for taking time to help us provide you with more disease-specific information and resources.
- The Leukemia & Lymphoma Society