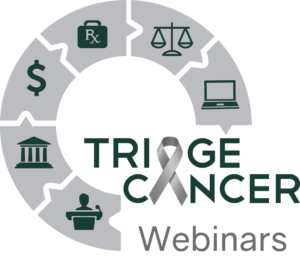 LLS partner, Triage Cancer, is holding its 2021 webinar series now. Triage Cancer offers free educational webinars on practical and legal cancer survivorship issues that impact people beyond diagnosis. Our free webinars discuss various issues related to navigating finances after a cancer diagnosis, health insurance, disability insurance, work and employment rights, advocacy, estate planning, clinical trials, and more.
All webinars are open to the general public, including individuals diagnosed with cancer, caregivers, advocates, and health care professionals. All of these webinars are held using the Zoom platform. Questions about how to use Zoom? Check out our Zoom Instructions for Webinars and Meetings.
Please see a list of upcoming events below and links for registration. An overview of available webinars is available HERE.
Adulting 101 on February 18, 2021 at 1:00 pm EST
Legislative Advocacy on March 16, 2021 at 12:00 pm EST
Ways to Take Time Off for Individuals Diagnosed & Caregivers on April 7, 2021 at 1:00 pm EST
Health Insurance Appeals on May 6, 2021 at 12:00 pm EST
Help Paying for Care on June 22, 2021 at 12:00 pm EST
Emotional Overload: The Impact of a Cancer Diagnosis and Strategies for Self-Care on July 20, 2021 at 1:00 pm EST
Estate Planning on August 11, 2021 at 1:00 pm EST
Medicare on September 15, 2021 at 1:00 pm EST
Understanding Health Insurance on October 14, 2021 at 1:00 pm EST
Make Ahead Holiday Recipes that Nourish Your Body & Soul! on November 11, 2021 at 2:00 pm EST