LLS celebrates its online Community members, now over 15,000 strong. LLS Community launched in 2016 to honor Michael Garil, who was diagnosed with acute lymphoblastic leukemia in 1974 at the age of 7. Throughout his life, Michael dedicated himself to openly sharing his experiences in the hopes of helping others. To continue what Michael started, his parents Ethel and Bernard Garil generously supported the creation of LLS Community in his memory.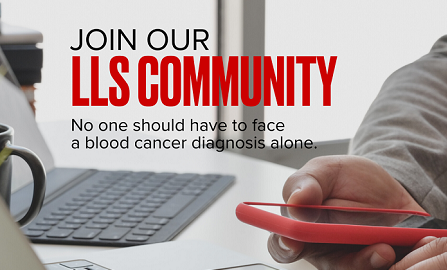 During the past four years, LLS Community has provided a platform for patients, caregivers, supporters and healthcare professionals to come together to share educational information about blood cancers, share experiences and offer support. Every day Community members engage in meaningful discussion covering blood counts to self-care and more.
Here are some recent examples:
"I have a sister who was recently diagnosed with ALL Philadelphia negative. I just wanted to know how you all are caring for your loved ones through this coronavirus. Do you let them eat out? What are you doing to protect them? What does your cleaning schedule look like/what has or has not worked for you?"
"During my annual physical, my PCP ordered a different blood test (Chromogranin A) and the results have come back high at 151 ng/ml. As this test is a biomarker for tumors and other unpleasant things, I'm having a fair amount of anxiety. Wondering if this elevated result could be due to the CML or if others have any experience with this."
"My last dose of Imatinib was 5/5. 6/5 BCR/ABL was 0.0027. Still acceptable. Just got results from 7/6 ...undetectable! Yay! When I decreased doses in the past, there was always a blip in the first test but I would revert to undetectable thereafter. Is this unusual? My GI system is happier. I feel hopeful today on my Birthday. Best present ever."
LLS Community has become the support system for questions, comments and celebrations for many blood cancer patients and caregivers. In addition, providing key research information and education opportunities has been a cornerstone of the platform. Members can view current education program opportunities as well as view previously recorded programs. Through blog posts and articles, members are provided with research updates both generally and specific to certain diagnoses. Twice weekly, we are assessing our members' experiences through our Question of the Day so that we may focus LLS resources on their needs.
As we move into the future, we are always looking at engagement, interactions and trends in the issues most relevant to our members. We are grateful to our LLS Community members for creating an environment of hope and support and look forward to continued growth. With this milestone, we celebrate YOU, our LLS Community members!