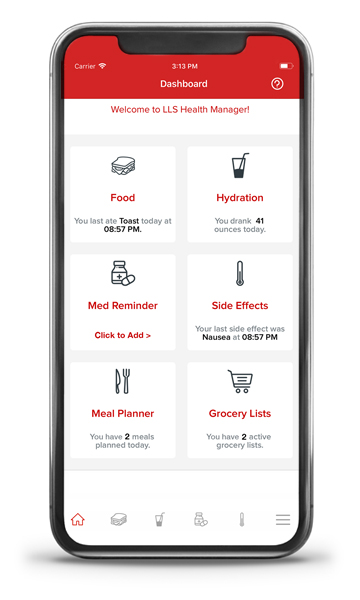 With the new LLS Health ManagerTM app, you can use your phone to manage your daily health by tracking your side effects, medication, food and hydration, questions for your doctor, grocery lists and more. You can also set up reminders to take medications and to eat/drink throughout the day.
Download LLS Health Manager: www.LLS.org/HealthManager
Managing side effects is an important part of cancer care. With this new app, you can export the information you've tracked in a calendar format and share it with your doctor to identify patterns and develop strategies to help manage your side effects.
Features of the LLS Health Manager app include:
Side Effects Tracker
Medication Tracker
Food Tracker
Hydration Tracker
Medication Reminders
Food and Hydration Reminders
My Report
Questions for Your Doctor
Grocery Lists
Meal Planner
Recipes
Serving Size Visual Cues
Shared Caregiver Access
Resources
LLS Health Manager is available for free on the App Store and Google Play. Click here to learn more.
Download the app now: