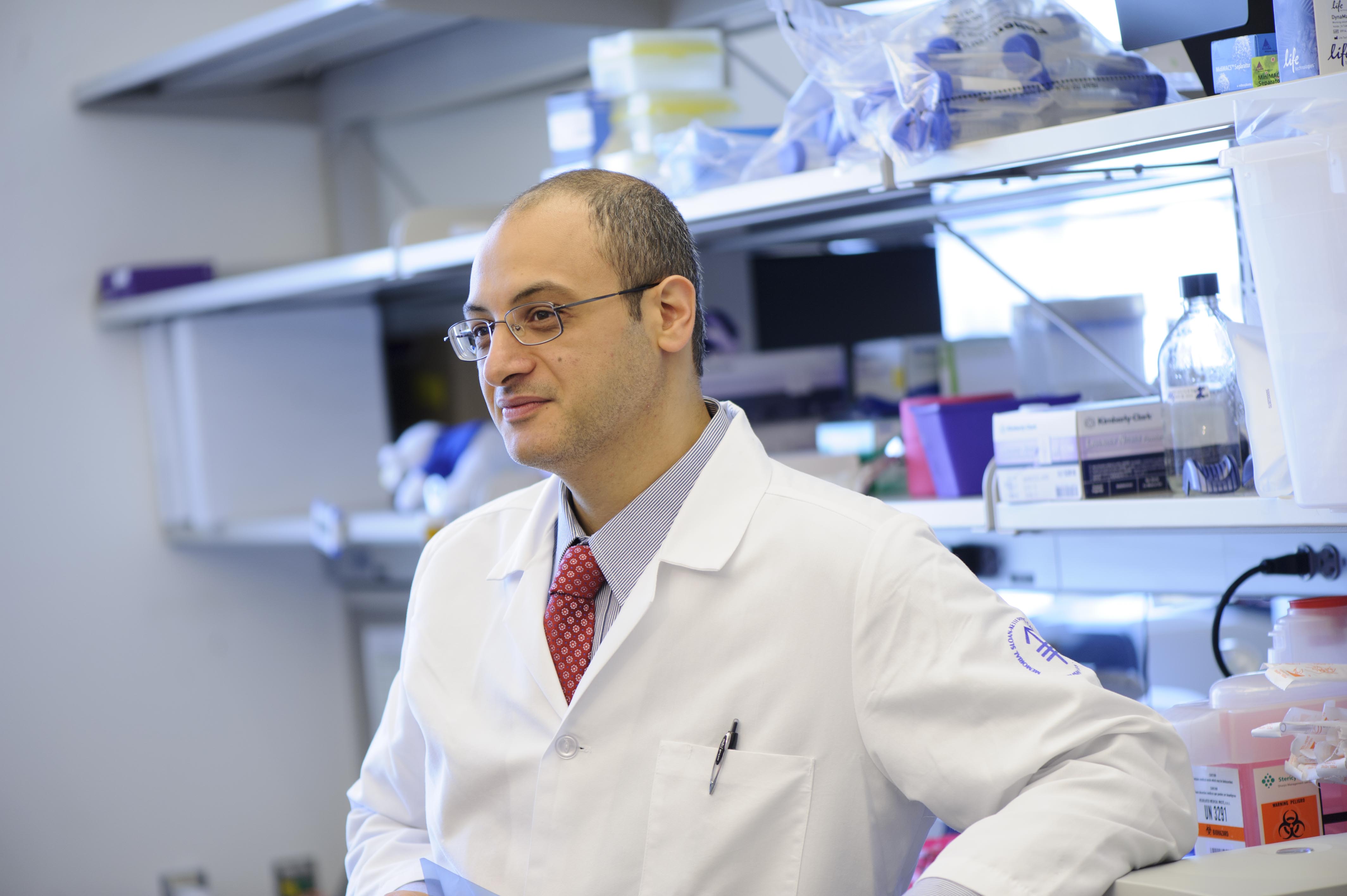 This is part of a periodic series of Q&A's with LLS-funded researchers. Dr. Abdel-Wahab of Memorial Sloan Kettering Cancer Center focuses on an area of research called epigenetics – chemical modifications that regulate (switch on and off) gene activity. He is studying how these processes drive the development of acute myeloid leukemia and other blood cancers. He currently holds a Career Development Program grant from LLS, a program that supports scientists earlier in their careers.
Q. What is the focus of your research and its primary goal?
My research is focused on understanding the genetic changes in leukemias and lymphomas in hopes of developing new selective treatments for patients targeting these cancerous changes. We have contributed to studies in acute myeloid leukemia, myelodysplastic syndromes, chronic lymphocytic leukemia, hairy leukemia, and histiocytic neoplasms. Among our findings is that there is frequently an overlap of two mutations in AML patients, of the SRSF2 and IDH2 genes. This could open the door to more targeted approaches to treating patients who have both of these mutations.
Q. How will blood cancer patients benefit from your work?
We hope that our studies will result in the discovery of new therapeutic approaches for blood cancer patients as well as new biomarkers for the treatment of blood cancers. To date, our work has helped result in the FDA approval of drugs for histiocytosis patients and several drugs in early phase clinical trials for patients with the myelodysplastic syndromes and acute myeloid leukemia.
Q. Why were you drawn to blood cancer research?
I have always been fascinated by the blood system and the immune system. Blood cancers develop due to alterations in the normal development of blood and immune cells and hence the study of blood cancers was a natural fit for my interests. I am also highly motivated by the fact that there is still a great need for better treatments for patients with many forms of blood cancer such as acute myeloid leukemia and the myelodysplastic syndromes, in particular.
Q. How has LLS helped advance your research career?
LLS has supported me in every stage of my career- from my time as a trainee to my current position as a mid-career faculty member. In addition, LLS has supported multiple trainees in many labs, several of whom have gone on to start their own research labs at universities and hospitals in the U.S., France, Japan, and South Korea.
Q. What makes you want to get out of bed in the morning?
I am motivated by the need to develop more effective and safer therapies for patients with blood cancers. I am so excited by the prospect that there are many mysteries underlying the development of blood cancers which have yet to be uncovered-- many of which could result in amazing new treatments for patients.
Q. What do you do for fun?
Spend time with my wife & I love to draw.
Q. Have you ever volunteered with LLS?
• Light The Night
• Man & Woman of the Year
• Medical and Scientific Advisory Board
• Speaking at Local Events
Learn more about Dr. Abdel-Wahab's work here
Follow him on Twitter at twitter.com/AbdelWahablab
@AbdelWahablab