Being diagnosed with a blood cancer can make you feel like you are alone. The Bloodline with LLS is here to remind you that after a diagnosis comes hope. Listen in as experts and patients guide listeners in understanding diagnosis, treatment, and resources available to blood cancer patients. Join Alicia Patten (below left) and Lizette Rivera (below right) from the Patient Access Education Team at The Leukemia & Lymphoma Society as they explore various survivorship topics.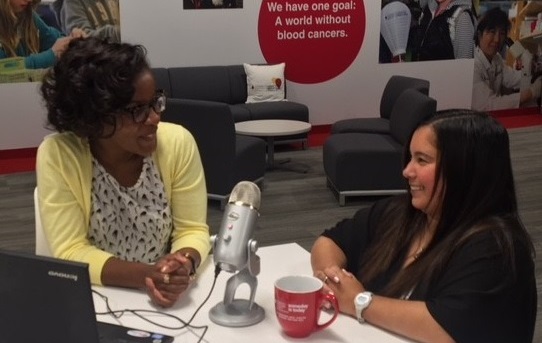 Don't miss an episode! Subscribe today!
Episodes
Life on Pause: Racheli's Story
Junior year of college and new to Los Angeles, Hodgkin's Lymphoma was the furthest thing from Racheli's mind. Join Alicia and Lizette as Racheli walks them through how a presumed head cold was misdiagnosed. Listen in as she shares how she was able to press play on her life, with treatment and support from her healthcare team, family and growing online following. Support for this episode provided by Bristol-Myers Squibb.
Diagnosed with Diffuse Large B-Cell Lymphoma (DLBCL). Now what?
Being diagnosed with a blood cancer can be overwhelming. On this episode, Alicia and Lizette speak with David, a diffuse large B-cell lymphoma (DLBCL) survivor, and Dr. John Leonard from Weill Cornell Medical College about David's lymphoma diagnosis. David and Dr. Leonard share helpful information for both newly-diagnosed and long-term survivors. Support for this episode provided by Kite Pharmaceuticals.
Why You Should Consider a Clinical Trial
Listen in as Alicia and Lizette chat with John F. Gerecitano, MD, PhD, Clinical Director of Lymphoma Outpatient Services at Memorial Sloan Kettering Cancer Center and Margaret (Peg) McCormick, RN, BSN, MA, Director of The Leukemia & Lymphoma Society's (LLS) Clinical Trial Support Center (CTSC). Hear about the role clinical trials play in cancer treatment, who can participate in a clinical trial and how participants are protected, how LLS's Clinical Trial Support Center assists patients in finding a trial that is right for them, and why it is important to think of clinical trials as a possible treatment option instead of a last resort. Support for this episode provided by Bristol-Myers Squibb.